We are pleased to offer this resource to support Waukesha County residents in need of rehoming their pet.  Animals listed on this page are not Elmbrook Humane Society (EBHS) animals, nor are they up for adoption through EBHS. EBHS has not assessed, evaluated, or handled these animals. These animals are being rehomed by members of the community.
If you would like to rehome a pet, please email a short bio and photo to our Director of Animal Care and Field Services at [email protected] and reference our rehoming program in the subject line of the email. Please note: if choosing to charge a fee to rehome your pet, the fee cannot exceed our adoption fees. If you adopted from our organization, we will work with you to either take your pet back or provide resources to assist you. 
Additionally, Petco Foundation and Adopt-a-Pet.com offer a free online rehoming service.  For more information, click on the icon below.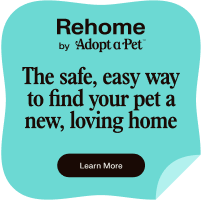 Pets Looking to be rehomed in Waukesha County:
Cardi
My name is Cardi. I am about 7 years old and around 55 lbs. I am a very good, loving dog. I have lots of energy and love to run and play. I am good with other dogs but not fond of cats. I am good with older kids. I am kennel trained but don't need to be in my kennel when you are not home. I will cuddle real close to you when the day is over. I am healthy and up-to-date on vaccinations.
For more information about Cardi, please contact Danielle R. at [email protected] or 414-758-5554 (email works best).